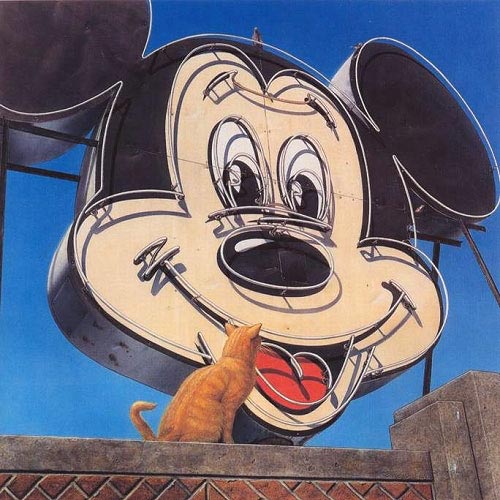 "Cat and Mouse"
Illustration for 'The Art of Mickey Mouse' by Craig Yoe and Janet Morra Yoe.
As my own little inside story to the illustration, I wanted to use the building at 20th and
Cherry in Kansas City, where Walt Disney and Ub Iwerks set up their first animation studio.
As the story goes, a field mouse had trespassed the second story studio and Walt had
befriended him and fed him each day. Walt dubbed the mouse 'Mortimer' and eventually
drew him as a cartoon character. Walt's wife Lillian didn't care much for the name
and later convinced him to change it to 'Mickey'.
The building, however, was in such a state of disrepair at the time that I decided
to use the front of a car parts store on Broadway instead. The cat was my sister-in-law's.
The cat was dark grey, but I thought changing him to orange gave me
more contrast against the blue sky, so I change him.